ATTENTION ALL CLUB MEMBERS!
Your Club is organizing a Bus Trip to the Gold Coast's garden & sustainability festival – The Botanical Bazaar
The festival will feature flowers & plants, edibles, herbs, garden décor + workshops, talks and more. Explore the community garden with live music and delicious foods.
TO ENSURE ALL who wish to come can get a seat on the bus/buses, please register your interest to attend by next Wednesday 28 April.
EMAIL your RSVP to     bangalowgardenclub@outlook.com
DATE: SATURDAY 31 JULY
DEPARTS: 8.30 am at the Anglican Church Bangalow
COST: $25 includes transport & entry to the festival.
Lunch at members cost.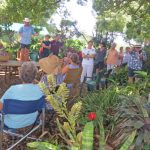 Our annual Christmas Party is being organised at a yet-to-be-announced venue.
Remember how good it was last year despite Covid? It will be even better this year !!