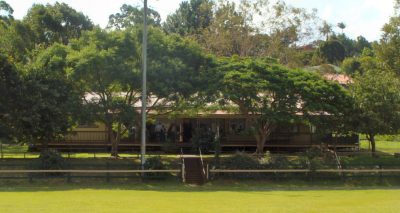 Our meetings take place in the Moller Pavillion
This building is situated in the beautiful sportsgrounds of Bangalow, located behind the Bangalow Primary School
At the monthly meetings formalities are kept to a minimum as minutes of previous meetings are emailed to members or available online. Each Saturday after our monthly meeting members visit a garden.
There is a segment called "Flower of the Month" – members are encouraged to bring along blooms or plants from their gardens and speak briefly about them.
A member may speak about a particular plant – a short commentary on a tree or shrub that does well in our sub-tropical conditions. At other times a guest speaker is invited to talk on relevant horticultural subjects of interest. Or we may be treated to commentary from an expert from a different field.
Time is allowed for sharing both problems and information, using the skills and botanical knowledge of the members.
The Trading Table is very popular and a good income stream for the Club. Members bring along flowers, plants and produce excess to their needs and they are auctioned off in a generous spirit of fun.
A delicious afternoon tea concludes the meeting.